An Edmonds Kind of Marketing Plan
Does that elicit a reaction at all? Well I almost guarantee it would if you were, or have been around the Edmonds, Washington area before. I was walking around Main St in Edmonds when I saw a car drive down the road with that iconic tagline on a bumper sticker.
"An Edmonds Kind of Day" has sort of been a synonymous tagline for the area for quite some time now and as corny or ridiculous as it may sound, residents of Edmonds know it. It's part of their personal local culture. It's part of who they are.
The four P's is a common marketing principle that you'll learn in your introductory Marketing classes in college; two of those P's focuses on the People and the Place aspect.
When you're looking into hiring a person or a company, such as ours, to handle your marketing; an important thing to have in mind is whether or not if they can connect your brand / company with the customers that you are aiming for. This can make a big difference especially for small businesses that are specifically targeting a small geographic area around them.
Yes, it is easy to do some general research. Such as if you look up via datausa.io, you can find general demographic information on towns, such as Edmonds. According to their site as of today's date, Edmonds has: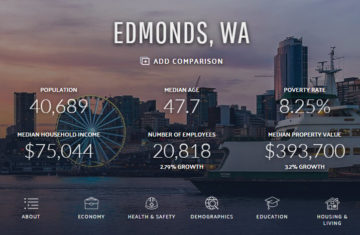 POPULATION
40,689
MEDIAN AGE
47.7
POVERTY RATE
8.25%
MEDIAN HOUSEHOLD INCOME
$75,044
NUMBER OF EMPLOYEES
20,818
2.79% GROWTH
MEDIAN PROPERTY VALUE
$393,700
3.2% GROWTH
But really how much does this data really tell you? It's not the data but it's the information that you can create from that data and those general cookie cutter strategies just won't be as effective as someone who has truly walked the streets of your local area.
A case in point would be the local Edmonds Coach Supervision Academy, run by our client Sam Magill.
There's a specific language that coaches speak in general across the United States. That can then be narrowed down to topics that might come up specifically to Coaches in the Washington State area and then even more so down the local "townspeak" of those coaches, in the Washington State area, in Edmonds. Which of those three messages do you think would resonate most with someone from the Edmonds area?
With a handful of local employees in the Edmonds area, it's no wonder our Edmonds based clients are seeing such great results.
Curious about what the standard BiondiMedia approach looks like?
If you're a business in the Edmonds area thinking about SEO, Social Media, Web Development or any of our other services. Reach out to us today~